Top 20 Most Trusted Brands in Small Business
Business from Downtown Boston Boston, MA
Oct 20th, 2017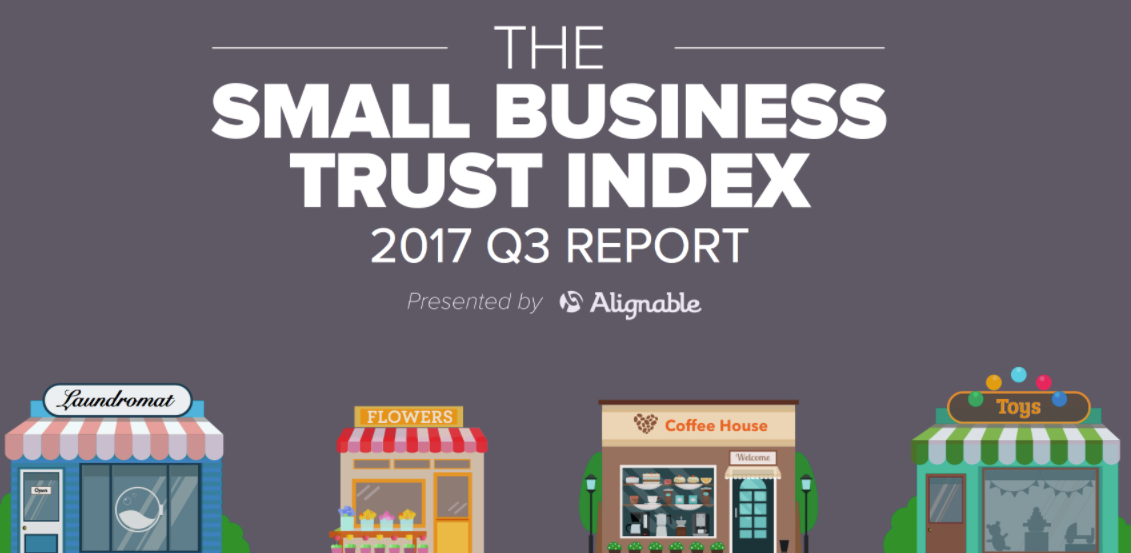 Trust is everything to small business owners. Tapping the collective knowledge of millions of small business owners to find trusted answers to challenges faced as a business owner is, well…priceless. That's why each quarter we update the SMB Trust Index℠, a comprehensive listing of brands based on how likely the millions of SMBs on Alignable are to recommend them to another SMB.
This quarter's report features the sentiment of over 42,000 SMBs from across North America.
Here are the brands they've picked as the most (and least) trusted. (Click to enlarge.)

- View the full image
- Download the PDF
- See Trust Ratings for each individual brand
How This Report Helps Small Business Owners:
Recommendations and word-of-mouth referrals are the best way for small business to acquire customers, and we've taken the same approach to help local business owners select which brands/vendors to work with. While it can be helpful to speak with a company representatives or read third-party reviews sites, the most valuable information comes from a trusted network of fellow business owners.
Since recommendations are a demonstration of trust, we use the Net Promoter Score (NPS) methodology to create the Trust Index, by asking small business owners the following: "On a scale of 1 – 10, how likely are you to recommend this brand to a fellow business owner?"
The power of this approach is twofold:

First, when making important purchasing decisions, you can quickly see which brands other small business owners rely on and why. Second, you can find peace of mind knowing that these ratings were shared by a trusted network of small business owners
Key Findings From This Quarter's Report:
- For the fifth quarter in a row, Amazon emerges as the "Most Trusted Brand by Small Businesses" as owners love its pricing, speed and reliability.
- Stripe, Google, Apple and Authorize.Net round out the Top 5 Most Trusted Brands. Whether it's Apple's hardware, Google's range of apps and data, or the payment processing features of Stripe and Authorize.Net, these brands solve mission-critical problems - and small business owners are able to depend on them.
- OpenTable is the only new entry into the Top 20 Most Trusted Brands. The online service not only helps restaurant owners manage reservations, but also reward loyalty and keep customers coming back.
The Most (And Least) Trusted Brand Categories:
Business owners love the Top 20 brands. What's interesting is to consider the categories that make up this Top 20.
In total, the 100+ brands currently included in our trust ratings are categorized across 13 different categories. Within the the top 20 brands, however, we only see a total of 8 categories represented:

1. Social & Digital Marketing: 4 (Google, LinkedIn, Twitter, Facebook)
2. Office Supplies & Services: 4 (Amazon, FedEx, UPS, Vistaprint)
3. Money & Banking: 4 (Stripe, Authorize.Net, PayPal, Square)
4. Computers & Apps: 3 (Apple, Microsoft, Dropbox)
5. Websites: 2 (WordPress, 1&1)
6. Legal & Accounting Services: 1 (Intuit)
7. Lead Generation & Management: 1 (OpenTable)
8. Email Marketing: 1 (MailChimp)
Of the Top 20 Most Trusted Brands, none came from the "Hiring" or "Online Presence & Reputation" categories - which are two of the areas small businesses need help the most. Is this a sign these industries are ripe for disruption?
What's Next?
Are you a small business owner deciding which brands can best help you run your business? Visit our interactive Ratings & Reviews platform to see what other business owners are recommending.

We hope you enjoyed our latest report! Let us know in the comments what else you'd like to see in the future.

Comments (1)
There are a couple of brands listed in the info-graphic I do not trust even though they received good reviews. Reviews are often paid for reviews Brian Krebs did an excellent post on this very subject. Read it at krebsonsecurity.com from there do a search for reviews, your eyes will be opened.